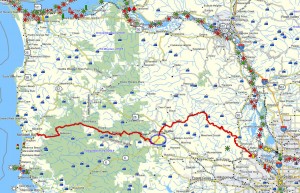 Brief summary:

This segment is the first of three trails that connect the trails north of US 26 to the trails that descend the Salmonberry River. This first segment of the  route begins at the end of the Two Rocks trail –  at the gate on Ridge Road located immediately above the Walcott railroad tunnel.
Walk duration: 1 hour  15 minutes

Travel time to trail head: 48 minutes (32.1 miles) from the Sylvan interchange on Highway 26 to the gate at the end of the Two Rocks trail, directly above the Walcott Tunnel on Ridge Road. This approach uses Highway 26 all the way to the first big hill (just past Staley's Junction and the turn-off to Vernonia) – 26.2 miles. At the base of that hill take the left hand turn on to Strassel Road and travel about 4.7 miles to the intersection with NW Ridge Road. At Ridge Road turn right and ascend up the hill for 1.1 miles. At this point the road crosses a ridgeline and just beyond this narrow point you will see a blue gate on the left side of the road. Park in the vicinity of the blue gate – this is the end of the Two Rocks trail.
Elevation change: The gate at the end of the Two Rocks trail on NW Ridge road is located at an elevation of approximately 1230 ft. The entrance to Dober Road (off NW Timber Rd.) is located at an elevation of 570 ft. In all the trails descends 660 ft in 3.7 miles.

Trail Log: This segment follows Ridge Road downhill in a southeasterly direction to Strassel Rd. (retracing the route you just drove up). Then it follows Strassel road (turn right) all the way to the paved highway (aka the Timber Road). This short segment of the Timber road is one of only two segments of paved road that you will need to travel on any of the routes that I've surveyed all the way to the coast. At the juncture with the Timber road you will want to turn left (heading towards Gales Creek) and follow the Timber Road for 7 tenths of a mile. On your right, you will see a dirt road, Dober Road, heading up into the hills. This is the beginning of the second segment of this route.
I recommend doing this 4 mile segment by car as there is much more scenic material you can enjoy, such as the next segment of this route which uses Dober Road to cross the mountains.