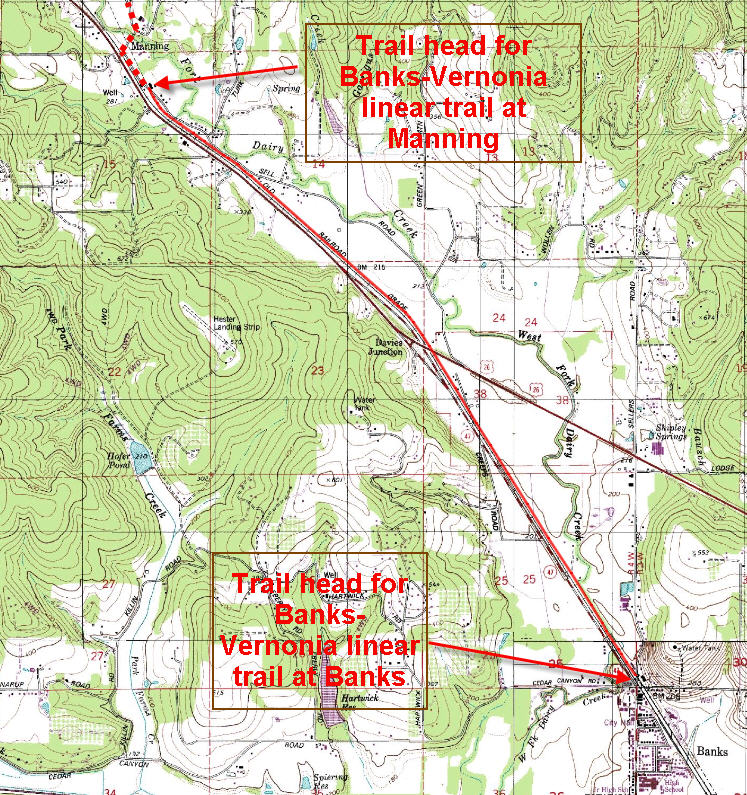 Distance: 3.63 miles
Walk duration: less than 2 hours
Travel time to trail head: 25 minutes (18.3 miles)
Drive northwest from the Sylvan interchange on US 26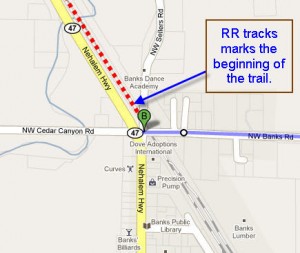 (top of the West Hills) 16.6 miles to exit 68 (NW Banks Road) turn left and proceed down NW Banks road 1.7 miles directly into Banks. Just before crossing the RR tracks turn right into Sellers road and then immediately turn into the Parking lot at the new Trail head. Where one used to have to walk the old tracks, there's now a brand spanking new trail – as of October 29, 2010!
Elevation change: no appreciable elevation change
Brief summary:This initial section of the linear trail is pretty flat and straight. It is ideal for bicyclists. If you're going to walk this linear trail I'd start at the Buxton Trail head, since this first portion is a bit monotonous and also heavily used by cyclists.
Trail Log: Aside from the directions given above, this section of the linear trail is flat and straight –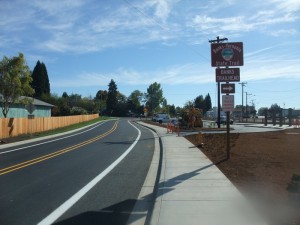 running through farm country with the only contiguous farm located next to US 26. The bridge which carries US 26 over the railroad tracks and the trail serves as the only shelter if inclement weather decides to buffet you – I took refuge there in a particularly intense rain shower. North of the highway the trail is parallel by a local road with residences nearby – local foot traffic is more prevalent in this stretch. But mostly this segment of the trial is used more by bicyclists than pedestrians due to it's uniformity. Yeah, I'm trying to be diplomatic. This stretch of the trail is boring and I'd skip it unless you're using it to acclimatize young bike riders to the joys of pedaling the linear trail.
Very near the end of the trail, I came across a "wild" batch of cyclamens growing on the railroad bed. At first I thought they were some sort of orchid,  but soon realized that these were escapees from someone's garden or, more likely, from a flower pot.
The native range of the Cyclamen is from the Caucasus to Eastern France, and they are endangered in their home habitats. But here they are flower shop favorite, seldom escaping into the wild. The Cyclamen plant is a tuber. Their fruiting bodies  average about 2″-3″ and are short, thick, usually subterranean stems or branches bearing buds or "eyes". These tubers store starches and carbohydrates to keep the Cyclamen alive during its summer dormancy.  In Turkey or southern Europe this is a dry period. So it is not surprising that this vagrant patch settled in a well drained rail roadbed.