Whispers of a bygone era…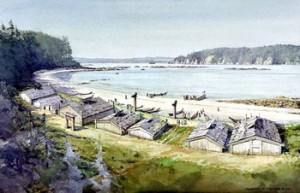 As I have explored and assembled information about the coast Range, I've come across occasional anecdotes and information tidbits that speak to the time before the coming of the Caucasians. Together these recollections comprise a pastiche of what life was like in the Pre-contact days. Through this quilt-work of images and stories I've tried to provide some hints to that prior world as it existed before the pestilence swept away much of our native cultures in the late 1700's.
Perhaps this recollection of a foregone era may also serve as a model for a more sustainable way of life that may even be in our future.