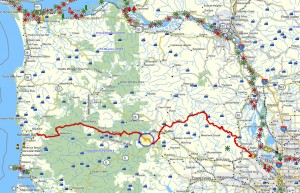 Brief Description: This segment follows the dirt road leading from Timber to Cochran Pond, which can easily be navigated by car (my recommendation). Save your  shoe leather for the Salmonberry corridor – one of the most impressive hikes in the Coast range! But if you insist, budget about one hour and 40 minutes to reach this remote pond.

Distance: 3.3 miles
Elevation Change: The trail segments begins at an elevation of 1360 ft. where the Round Top logging road debouches on to the Cochran Rd. And the segment ends at an elevation of 1775 ft. where the road crossed the RR tracks just to the east of Cochran Pond.
Walk duration: 1 hour 40 minutes

Travel time to trail head: 40.4 miles 56 minutes
Trail Log: Arriving at the Cochran road, turn left and follow the road south towards Cochran Pond. The road rises to 1612 where the RR comes alongside the road. The road gradually rises over the 3.3 miles to 1922 just above the Cochran Pond. This segment ends where it crosses the RR tracks at an elevation of 1862. The first Salmonberry segment begins here and follows the railroad west down into the Salmonberry gorge.