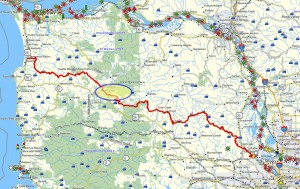 Brief description:
This Tillamook State Forest trail is about 39 miles from Portland. Access is directly from the Sunset Highway, with parking on the shoulder. This trail is part of the Northern Route.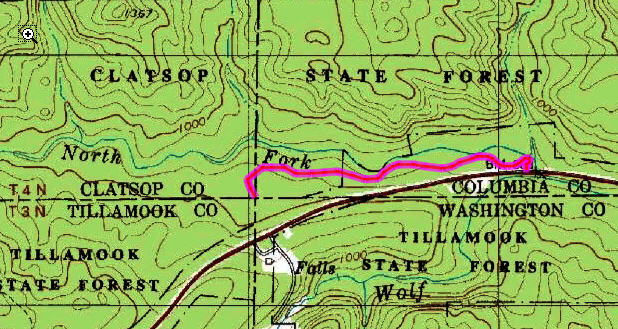 Distance: 1 mile
Walk duration: 25 minutes one way; 45 minutes round trip

Travel time to trail head: 35 minutes from the Sylvan interchange on Highway 26, or 39 miles.
Elevation change: 40 feet

Trail Log: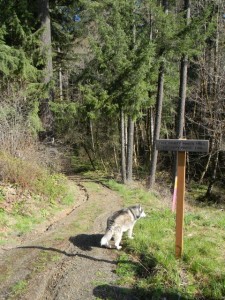 The Four County Point trail is located about 39 miles out of Portland. A highway sign gives ample warning that there is a hiking trail ahead, and just as the road turns and begins to ascend you will spot an additional sign alongside the road, where a wide should accommodates parking for at least a dozen cars.
The official brochure from the Tillamook State Forest claims that this is the only place in Oregon where you can stand simultaneously in four separate counties: Tillamook, Clatsop, Columbia and Washington counties. My reaction to that is "big effing deal!" There's so much more to this nifty 1 mile trail than contemplating some virtual dot on a map. But if that's what it takes to get you out of your car and into the woods this trail may be the catalyst to helping you get a new life and a healthier perspective beyond the contemplation of political lines in the sand.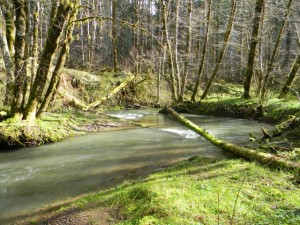 The trail itself winds through a Douglas-fir forest mixed with Vine maple, Salal, Oregon grape and Sword ferns. The North Fork of Wolf Creek runs alongside providing beautiful stream-side vistas. Follow the trail down and around before heading uphill parallel to the road. You eventually connect with an access road, but the trail diverges from this road at the top of the next hillock. The trail is relatively flat and well maintained so it can be navigated by most people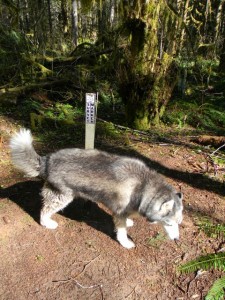 without undue burden. On the way back you can stay on the access road which leads up the slope to the road, bypassing the lower portion of the trail.
This is a nice hike to take visitors on. It will add an hour to your day-long beach excursion, but will give them a lovely impression of our deep forests – something at least as dramatic to appreciate as our lovely coastline.
Loki letting me know what he thinks of county boundaries.