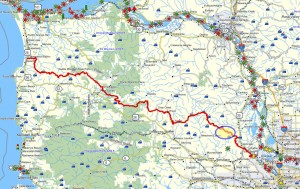 The Lower Columbia Corridor is the first segment through which my surveyed hiking trail connecting Forest Park to the Coast must pass.  It begins at Rocky Point Road that connects the northern terminus of Skyline Boulevard with Highway US 30  – about 2 miles south of Scappoose. All the trails south of Rocky Point road have already been described in my book,
Portland Forest Hikes
, published by Timber Press in 2007.
At the southern end of this corridor and mostly located on the eastern flank of the hills are two special concentrations of hikes that deserve special treatment.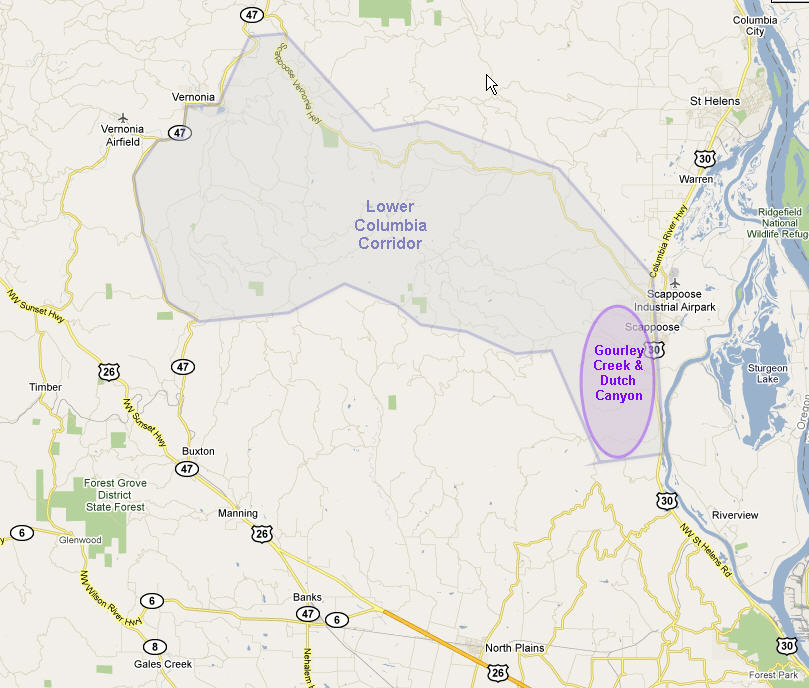 The Raymond and Gourlay Creek watersheds are located immediately north of Rocky Point Road. This 10-12 miles expanse of hillside just north of Rocky Point Road is honeycombed by logging roads that comprise prime hiking country. The north end of this privately owned timber tract is bounded by Otto Miller Road which drops down from the ridge line of the Tualatin Range to connect, eventually, with South Scappoose Road and ultimately leads into Scappoose itself.
Beyond Otto Miller Road is Dutch Canyon, which backs up to Buck Mountain – a heavily wooded peak overlooking Scappoose. This area too, harbors a complex labyrinth of trails which I have found great pleasure exploring in all seasons. Buck Mountain also represents the end of the Tualatin range as a distinct line of hills. Beyond Buck Mountain is an important watershed boundary that divides  waters flowing into the Tualatin (and from there into the Willamette), from those flowing into the Nehalem (and from there flowing into the Pacific Ocean), or those flowing eastwards and directly into the Columbia River. This watershed line once marked the boundary between the distinct territories of the Calapuya Indians (Tualatin valley), the Clatskanie Indians (Rainier, Oregon area), and the more powerful and rich Chinooks residing in the Scappoose area.
In this subsection I have presented the following trails:
Jackson Creek and Vendata retreat
Bridle Trail
Barrow Loop
Gourlay Creek – Main stem
Gourlay Creek- Upper
Gourlay Creek – Lower
Elk Kick Loop
Buck Mountain
Rim Road and Panther Creek Loop
Below you can also find a map that shows how a continuous trail route from Forest Park to Seaside or the Nehalem Bay runs through this area. Many of the trails described in this section touch on, or use a portion of the continuous Forest-Park-to-Seaside route, but the below depicted map isolates the long distance route that passes through this corridor.