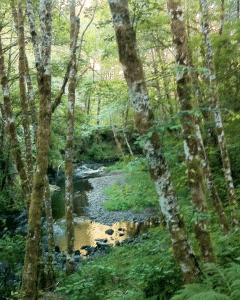 If you drive to the very back of McGregor Road (off of US 26) there a small clearing just before the road splits into the Eastside Grade and the Pit Road. The McGregor Road climbs the ridge from its access point on US 26 (a quarter of a mile east of the rest area). Albeit at a distance and at a higher elevation, the Mcgregor Road parallels the gated logging road that leads to the original site of Camp McGregor – now a tree farm operated by Stimson Lumber Company.
This road eventually leads into timber tracts that were originally controlled by the Eastside Logging Company – to supply their box making factory in Portland. Hence the furthest extension of this road is also called the Eastside Grade. The alternative route, simply identified as the "Pit Road", is also known colloguially to the foresters that maintain these routes, as the "Snagpatch road", in honor of the many storm-toppled trees along its length.
However to get to Rock Creek, you will have to back up about 50 feet from the Y fork in the road that splits McGregor Road into the two aforementioned choices. To the left of the car will be a wide open area and in the NE corner of that clearing you should spot a rough track heading north. Follow this track past the water filled quarry and enter into the deep foliage that threatens to press in on the car. From here this rough track continues down the north face of this mountainside, switch-backing back and forth until it forks near the bottom of the slope.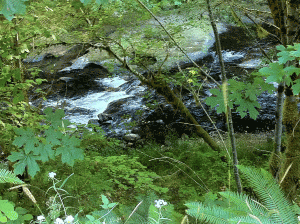 If you proceed straight ahead you'll eventually emerge along the lower portion of Rock Creek and will be blocked by a gate just short of the bridge over Rock Creek located east of Ginger Creek. If you turn left the road parallels Rock Creek in the upstream direction. Eventually this road also is blocked , just short of the bridge across Rock Creek. But if your car is the more of an urban vehicle with minimal clearance it would be best to park it before the big hump in the road. From there it's just a matter of following the road over the bridge and following the stream.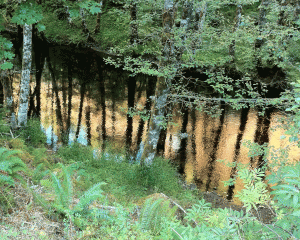 There is an uphill option soon after the bridge, but ignore that and hang left to pass through a narrow defile that marks the continuation of the original railroad grade that carried timber out of this valley. Further along the road has been obliterated by earth movement and the encroachment of a stream, but these impediments can be easily navigated on foot.
The road follows this idyllic stream all the way to US 26. It's 3.47 miles to the next bridge and from there it's another 5.75 miles to US 26. On foot the walk to the next bridge and back was quite enough!