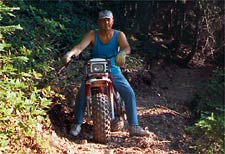 In the 1998 edition of  The Pacific Crest Trail Hiker's Handbook, Ray Jardine admonishes us that trail building should, "try to hurt the earth as little as possible". The overriding objective should be to keep the wilderness experience as natural as possible. The trail engineering should blend in so that it can be overlooked as we focus on the natural environment around us. Like so many things in life the ultimate compliment that can be accorded our work is that it blends so perfectly with the world around us that the human intervention is all but invisible.
Such a trail builder was Randy Hodges! He had a reputation as an exceptional contributor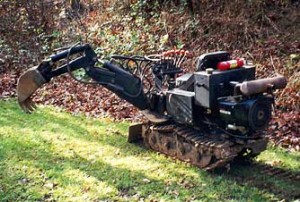 to this solitary field of trail construction.  On his business website Randy cited this accolade, "There's a lot of guys who call themselves trail builders, but they're not like Randy. He's an artist." Having walked his trails I will not disagree.

But on February 17, 2011 we lost Randy Hodges – on of Oregon's most respected trail builders – as he worked on the trail from Gales Creek Campground to Reehers Hose Camp, near Timber. He was carving a trail into  a blu
ff of exposed, weathered and fractured rock. A rock from above came down and hit his equipment and him, pushing them both off the trail and down about 30 feet to a rocky ravine. The tractor landed atop of Randy.  Because he always worked alone, he had no chance for rescue. The accident probably happened a day or two before ODF found him.
 Above you can see the tools that Randy and many of his fellow mini-road builders use (Morrison Trail builder and Honda Carrier), but what really set them apart is their vision for integrating a passable route through the challenging terrain so that we hardly even notice. So the next time you go strutting up a trail give a little thanks to the enterprising souls that spend their lives working all alone on some lonely stretch of forest to thread a lifeline through the jumble of wilderness.